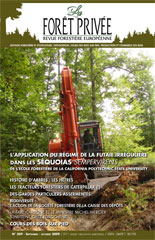 La Forêt Privée is a bimonthly journal for forest owners, professionnals, loggers, silviculture enterprises and wood industry.
La Forêt Privée informs them about the latest technics and ways of forest management, in response to their purposes, from wood production to hunting, inspired by the solutions founded by the more dynamic professionnals in the sector.
The journal cares especially for new tools and machines, with the objective to share forest work comfort and practability with due care to the ecosystems.
In order to give its readers all the practical information they need, it has been publishing for many years updates on forest and environmental laws and taxation, written by one of the most famous teachers  in these subjects.
Being motivated by everything that concern forest, trees and wood products, it also publishes general interest articles, botany, forest history, innovating transformations and uses of wood, foreign experiences, etc.
Created by a consulting forester in 1958, it has been picked up by his two sons, also consulting foresters, who publish it totally independantly. It has around two thousand subscribers.