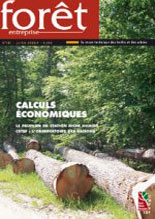 Created in 1962, Forêt-Entreprise magazine is published by the Institute for Forestry Development (IDF), which is the applied research department of the National Centre for Forest Ownership (CNPF) - a public body in charge of support and extension missions concerning private forests, their sustainable management, and the mobilisation of their resources, that gathers 400 technical and administrative salaries all over the country.
Through an accessible style, Forêt-Entreprise puts within its readers' understanding (technicians and engineers from extension services, forest owners and managers interested in sylviculture) the most relevant forestry techniques, based on the recent research results tested by the IDF engineers.
Silviculture faced to climate change, quality of forest management,  forest ecology and environmental functions, biodiversity and habitats, sustainable development, sylvicultural techniques concerning the main softwood and harwood species, are some of the current topics on which Forêt-Entreprise brings some new approaches.
Each issue of the magazine presents:
a comprehensive file on a specific topic, elaborated by the best experts
innovations provided by the specialized working groups of IDF
some practical articles on sylviculture
forest news
specific opinions,  readers column, etc.
Forêt-entreprise is published every 2 months; 3.000 copies are printed, among those 2.100 are sent to subscribers all over France and a few other countries.
Forêt Entreprise is sold through the internet bookshop of IDF on the national private forests portail (25 000 monthly visits) www.foretpriveefrancaise.com, that offers both IDF own books and products, and some others' publishing products.
Contact person for EUFORMAG :  Cette adresse email est protégée contre les robots des spammeurs, vous devez activer Javascript pour la voir.