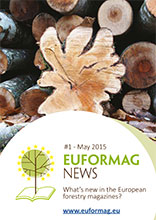 The European network of forestry magazines EUFORMAG has launched a new initiative to disseminate information about the forestry sector in Europe.
This is a short, free bi-monthly short publication, in PDF format and in English language, which will show the main contents of the latest issues of the network's magazines. This will enhance the exchange of news and contents between the magazines and show what has been published in various countries, in order to understand what issues are topical in Europe and find out projects and replicable initiatives.


Download "EUFORMAG News" from the website of the Network and share with your contacts!